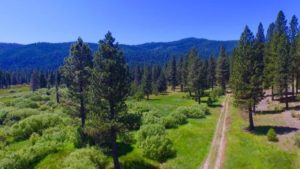 Rugged canyons, crystal clear lakes, grassy meadows, trout filled streams, pine forests, brilliant star filled skies…they await you in beautiful Mohawk Valley!
We believe that all developments and communities within Plumas County are pretty special. However, we just happen to feel Whitehawk Ranch offers the best of the best to any potential homeowner. We hope you will seriously consider Whitehawk Ranch when making your future home and neighborhood buying decision.
Whitehawk Ranch is a well-planned community featuring a wide range of properties. The selection depends on your individual needs, be it a single family home, golf cottage, townhouse or custom lot to build your dream home. Whitehawk Ranch offers a lifestyle and affordable prices that you have been waiting for. Picture yourself enjoying lazy days golfing on one of the Top 10 public golf courses in Northern California, and at days end marvel at star filled nights among the pines. You truly can own a little piece of paradise.
Whitehawk Ranch is a mature development with over 80% of the planned home sites completed. The community is governed by the property owners who are elected by their neighbors to serve on the various boards. There is a large enough population to share in the expenses of the community thus keeping the homeowners dues to a minimum.
Enjoy several recreational facilities including a swimming pool/spa, tennis and bocce ball courts, a picnic gazebo, and a community center/library for meetings and social events, as well as a member funded exercise room and equestrian center.
With 110 acres of prime forestland and open space to conserve and protect, the "Whitehawk Ranch Volunteer Fire Department" annexed into the Graeagle Fire Protection District in 2007. This annexation has resulted in a fire protection and first alert organization with greater depth and capabilities and insures the best possible fire rating for homeowner insurance coverage.
As a property owner you will become a member of one of the most important assets of the Ranch. The Whitehawk Ranch Mutual Water Company, a community-owned and managed organization responsible for our pristine and ample water source, water/wastewater treatment distribution system, and fire hydrant infrastructure throughout most of the ranch.
Last, but surely not least, Whitehawk Ranch is home to two professional commercial partners, Whitehawk Ranch Golf Course, rated 4 ½ Stars in "Places to Play" by Golf Digest Magazine and The Lodge at Whitehawk Ranch.
We, at the Ranch hope you find this information about our special community beneficial as you consider being another satisfied Whitehawk Ranch property owner and neighbor.
Reasons to Buy in Whitehawk Ranch excerpts from "A message from the HOA Board" as published on their website www.whitehawkranch.org